Want to sell?
If you need to find a new good home for your special car - please let us take the mission! The only requirement is that your car must be accident free. And hopefully the service book is filled!
We prefer to sell cars that have original factory look as we believe optical aftermarket tuning is not for serious people.
In addition to our customer database, since 2004 we advertise the cars also in:


mobile.de/sportauto



Visit statistics
On 23.10.2008 we activated the Flagcounter showing the unique visitors: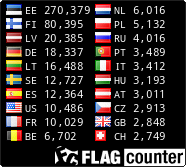 Nürburgring
The best lust in the world!



The right Porsche
Many people think we are Porsche specialists and they ask our advice when buying a Porsche. After testing and driving Porsches for 15 years, we are sure, the best Porsche has two doors, rear wheel drive and manual gearbox. E-mail us for precise advice depending on the Porsche model you are looking for.


Porsche photos
918
Carrera GT
911 991
911 993
911 964
911 G-model
911 1.gen
Motorsport moments

Porsche - did you know?
Ferdinand Porsche
Ferry Porsche
F.A. Porsche
Ferdinand Piech
Porsche crest

Car museums
When abroad, don't forget to visit the car museums! For the selection of museums, click here!

Porsche news
04.02.15 Cayman 981 GT4
24.07.14 Cayenne 958.2
31.03.14 919 hybrid
19.03.14 Cayman 981 incl. GTS
19.03.14 Boxster 981 incl. GTS
13.01.14 991 Carrera incl. Targa
21.11.13 Macan
23.09.13 991 Turbo Coupé & Cabrio
04.04.13 Panamera 970.2
05.03.13 991 GT3
23.02.13 991 RSR
09.12.12 991 GT3 Cup
27.09.12 Panamera Sport Turismo
15.05.12 918 Spyder
Event reports
16.05.13 Nürburgring 24H trip
16.06.12 One Mile Challenge 2012
16.10.10 Kristjan Pappa wins Porsche Club Estonia 2010 championship
11.10.09 Sportauto.ee at Porsche Sports Cup on Hokenheimring
19.09.09 Exotics on AudruRing
27.05.09 Nürburgring + Panamera + new Porsche Museum + AutoStadt